We have auditions for the October (Free and Easy) and January (Charlie and the Chocolate Factory) shows. Read on for details…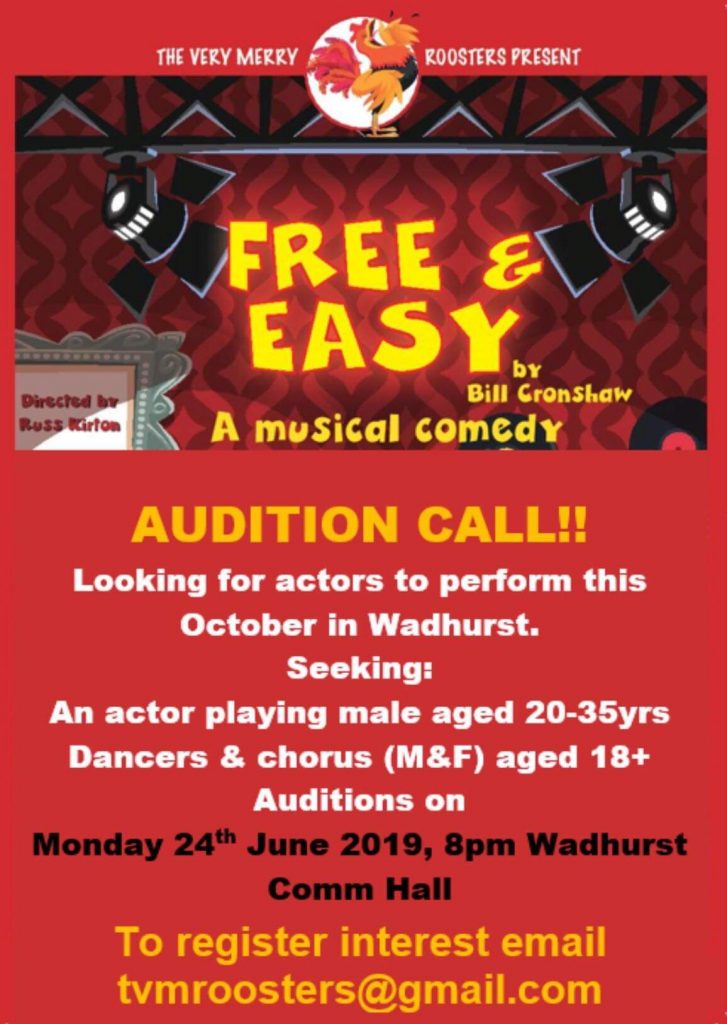 17-19th October 2019: Free & Easy from The Very Merry Roosters and friends
Auditions: Mon 24th June at 8PM
Set in 1960's London, Eric and Iris Dobbins run a friendly neighbourhood pub (The Last Drop) with a regular 'Free & Easy' evening (an 'Open Mic' Night). Everybody knows everybody – it's a real family pub, somewhere to feel safe and comfortable. This peaceful existence is threatened by a visit from Ron Stone, the brewery's new consultant who presents them with a 5-year business plan and revised tenancy agreement. Seeing the 'marketing potential' of The Last Drop, Stone has persuaded the brewery to demand £25,000 for a new agreement. Failure to pay means eviction – and will allow the consultants to transform the pub into an 'entertainment centre' for pole-dancing and other salacious events. Eric, Iris and daughter Tracy are distraught, barmaids Vanessa and Sharon are devastated, and the regulars are disconcerted. How can this be stopped? Ah! You need to wait until October 2019.
Free & Easy will be performed by our Lamberhurst-based friends, 'The Very Merry Roosters', by special invitation from Wadhurst Dramatic Club.  With over fifteen songs from the 50s and 60s performed live on stage, there's a guarantee you won't be disappointed.  If you'd like to get involved on-stage or off-stage, there will be some room for Wadhurst actors/ singers & dancers too. 
Open auditions will be held on Monday 24th June at 8pm in Wadhurst Commemoration Hall. Contact the director Russ Kirton on tvmroosters@gmail.com to register your interest.Get your 60's gear ready and your dancing shoes warmed up – come and join us!
Open auditions for our January 2020 production: Charlie and the Chocolate Factory
'Come with me, and you'll see, there's a world of pure imagination'WDC and WYTKidz are planning to stage this well-loved Roald Dahl musical in January 2020, directed by Amanda Dann whose production of Private Peaceful last November received a NODA award.
Open auditions for both adults and youngsters will take place on Sunday 14th July 2-4pm in Wadhurst Commemoration Hall. There's a range of characterful parts needing actors, singers and dancers. Rehearsals start in September and performances are late Jan/ early Feb 2020. All welcome to come along. Any queries, contact Amanda on 01580 200948 or email info@dramatiks.co.uk.