The link to watch is here: https://youtu.be/Ruu69eDxMQA
This is an amazing pantozoom written by Amanda Dann, Xan Kite and Russ Kirton, Directed by Russ Kirton and performed by members of the Wadhurst Dramatic Club. A topical comedy and visual treat with costumes and colours, crazy characters, fun and music. Specially designed to be recorded on zoom, using the effects brilliantly with all the actors safely acting within their homes – talent and happiness shines through! Take that 2020!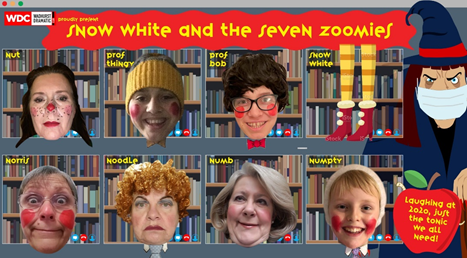 So, grab your favourite bevvy or brew, settle back in a comfy chair, click on the link above (or type it into your web browser) and enjoy an hour of great fun from your friends in the Wadhurst Dramatic Club! ….oh, and do add a comment or send us one if you like, we'd love to hear from you!
Thank you as always for your fabulous support!