Read NODA's fantastic review of Bah Humbug!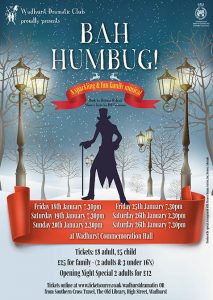 It may not be a Panto, but it is just as much fun for all the family… and it's a story not just for Christmas.  A reminder, perhaps, to be more forgiving and generous in the year of Brexit.
Once again brilliantly directed by Kay Sasada, it features toe-tapping songs from the pen of Bill Francoeur, who you may recall from "Flapper!" and the hilarious "Way out West in a Dress".