This moving story of a First World War soldier by Michael Morpurgo is translated into a powerful, thought-provoking drama performed by the Wadhurst Youth Theatre group, WYTKidz, directed by Amanda Dann.
Our local rep of the "National Operatic and Dramatic Association" (NODA) was very touched by the performance as can be seen in her: Private Peaceful NODA Review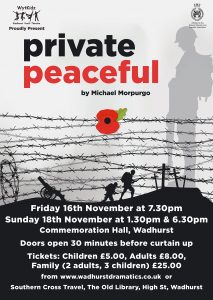 'Private Peaceful' is the story of a 16 year old, First World War soldier, Tommo Peaceful, who is awaiting the firing squad at dawn.  The night before, he relives his joyful childhood at school, his adventures with Molly, the love of his life, and the injustices of the war that brought him to the front line.
The three performances were on:
·         Friday 16th November at 7.30pm
·         Sunday 18th November 1.30pm and at 6.30pm