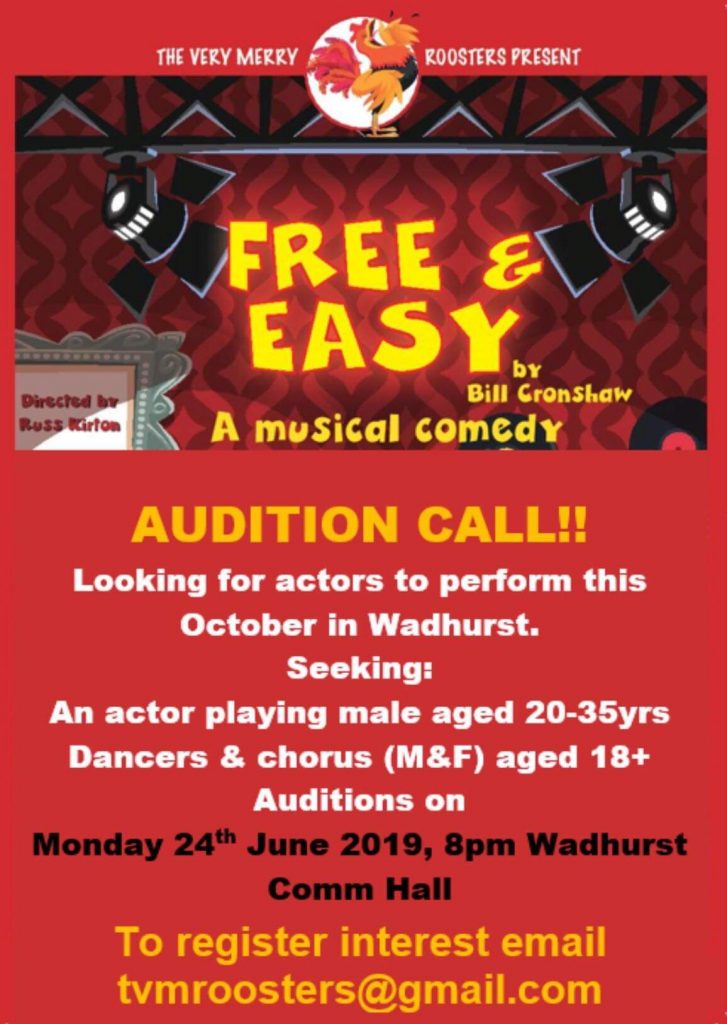 17-19th October 2019: Free & Easy from The Very Merry Roosters and friends
Set in 1960's London, Eric and Iris Dobbins run a friendly neighbourhood pub (The Last Drop) with a regular 'Free & Easy' evening (an 'Open Mic' Night). Everybody knows everybody – it's a real family pub, somewhere to feel safe and comfortable. This peaceful existence is threatened by a visit from Ron Stone, the brewery's new consultant who presents them with a 5-year business plan and revised tenancy agreement. Seeing the 'marketing potential' of The Last Drop, Stone has persuaded the brewery to demand £25,000 for a new agreement. Failure to pay means eviction – and will allow the consultants to transform the pub into an 'entertainment centre' for pole-dancing and other salacious events. Eric, Iris and daughter Tracy are distraught, barmaids Vanessa and Sharon are devastated, and the regulars are disconcerted. How can this be stopped? Ah! You need to wait until October 2019.
Free & Easy will be performed by our Lamberhurst-based friends, 'The Very Merry Roosters', by special invitation from Wadhurst Dramatic Club. With over fifteen songs from the 50s and 60s performed live on stage, there's a guarantee you won't be disappointed. If you'd like to get involved on-stage or off-stage, there will be some room for Wadhurst actors/ singers & dancers too.
Want to get involved? Contact the director Russ Kirton on tvmroosters@gmail.com. Get your 60's gear ready and your dancing shoes warmed up – come and join us!