Vera Lawson 16 May 1923 – 12 May 2022
Today we said goodbye to one of the stalwarts of Wadhurst Dramatic Club. To a little lady with a strong voice, a generous heart and a lot to give. My memories of Vera Lawson include her and Joy Creasy giggling together in the dressing room in the interval over a small bottle of sloe gin; her clear, well-timed prompts, unflappable in any stage 'emergency'; her final 'swansong' stage performance in 2012 with Hugh Orchard, seated in rocking chairs on the porch performing a poem and a monologue in The American Revue; her straightforward approach and manner which combined perfectly with her sense of fun.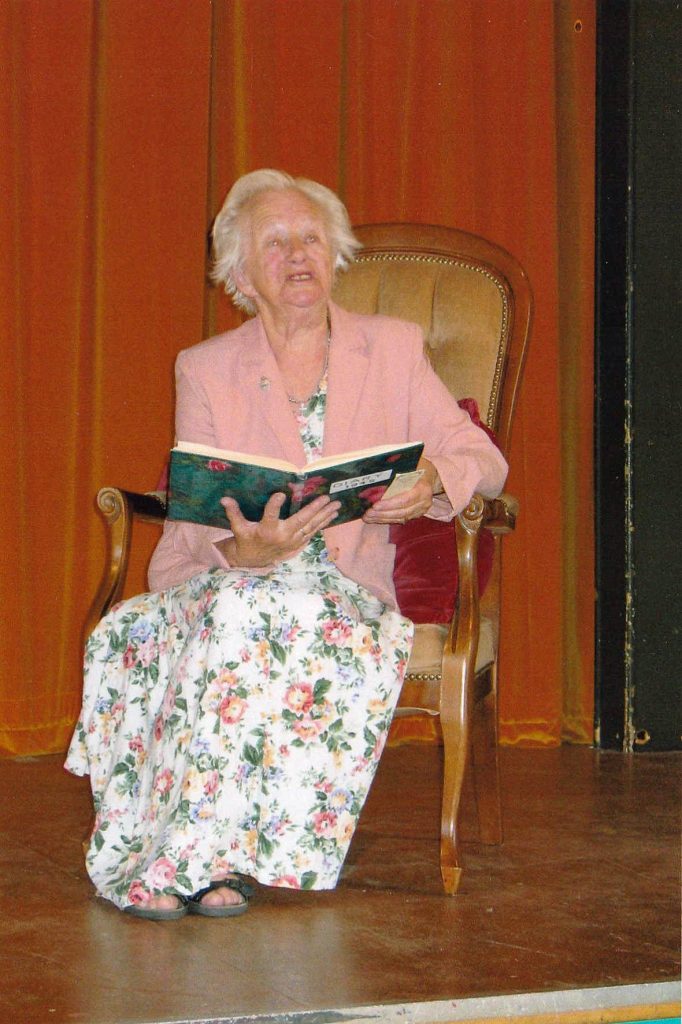 John Bush reports that Vera appeared in 11 productions on stage and was (a very good) prompt for another 13. She also helped backstage, especially with props – notably erecting Laurie Buckingham's entire shed on stage in My Three Angels!
Even when she felt no longer able to perform or prompt, she continued to participate in Drama Club events and support the Club. She was a big supporter of Wadhurst Brass Band too and barely missed a concert. She was one of the first on the scene at the recruitment day for the L-Plate Brass – as she had wanted all her life to have a go at playing the drums. And play she did, very convincingly!
She was a volunteer at the Primary School too, listening to my son read and chatting to him – and always remembering his name (among many others).
Wadhurst was very lucky to have Vera and Tom for all those years!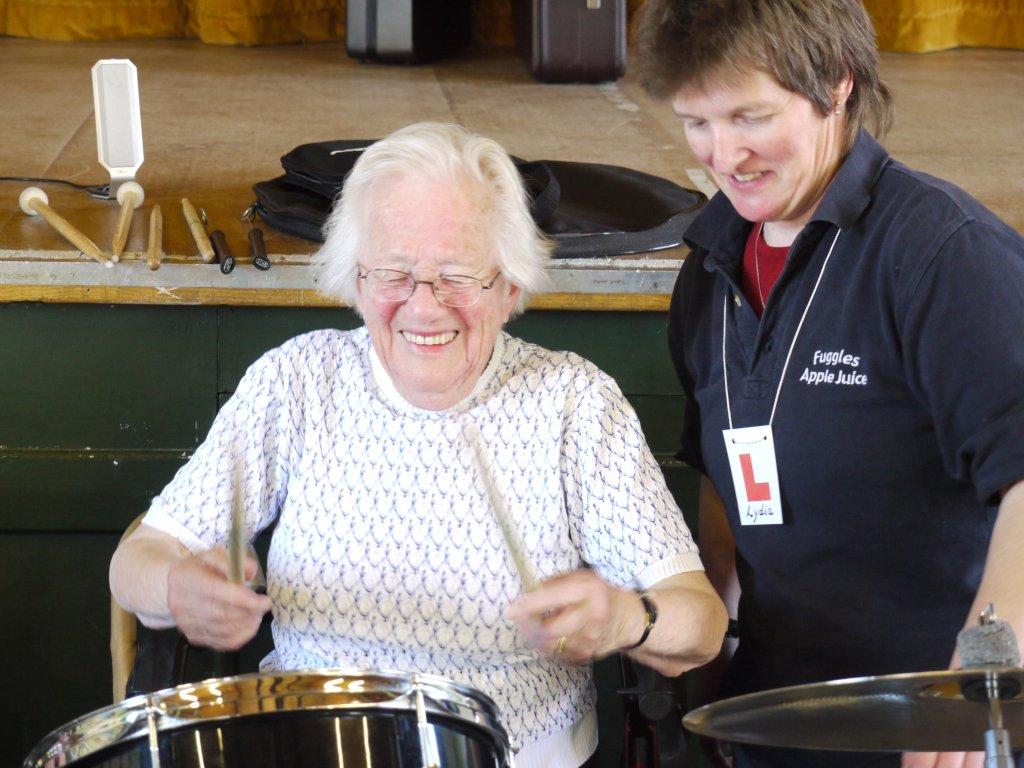 Dot Smytherman
Vera was in several revues, music halls and plays. The last (and best) play she did was Waiting in the Wings. She had a very clear speaking voice and could project extremely well. Her singing was great.
As for Vera herself, she was a wonderful human being, kind, considerate, always thinking of others. I feel very privileged to have known her.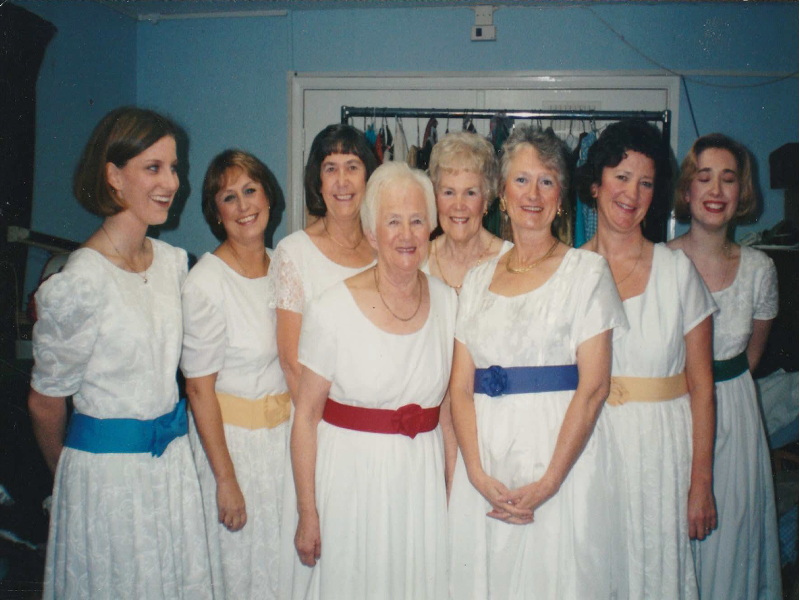 Ro Mackinnon
I shall always remember Vera with a lot of affection. She, Joy Creasy and my mum were like the three musketeers right from the mid 50's. She loved being part of the Drama Club and was a very good character actress and a really good prompter. Vera never minded what part she was given she always threw herself into the role with great gusto. She might have been a little person but she had a big heart and always made her presence felt on stage. For me, now is the final curtain as she was the last to survive of the three musketeers. It is astonishing that although she was only one year younger than my mum she survived her by 16 years.
Heather Woodward
VERA – THE PERSON: The gentle lady, the smile giggle and laugh, the wicked twinkle in the eyes and the voice. Lovely singer. Generous in her support of others. In photographs, she's always smiling and could be guaranteed to see the funny side of pretty well any situation. Became a teacher and remembered her pupils with affection.
THE ACTRESS: how many laughs especially when Joy Creasy was around too! Vera and Joy together as The Grand Old Girls of England for the 2005 – 60/90 Revue. In plays including The Letter from the General, Waiting in the Wings, My Three Angels, Cat's Cradle, Day of Reckoning, Play On plus numerous Music Halls where she danced and sang and contributed to melodramas, and helping backstage especially as prompt. And I think she was one of the Telly Tubbies with Joy and Pam. And who can ever forget the hilarity which was always the reaction to our performances as The Strollers of her miniature pantomimes e.g. Snow White and the Seven Dwarves performed by five "players".
IN WADHURST: a long-standing and enthusiastic soprano in the Church Choir with a lovely voice which she never lost.  On 20th January 1956, it being such a foul-weather day, Vera and Joy were together in Vera's bungalow having a cup of tea when the jet crashed just along the road. They comforted their babies whilst being thankful they had been missed by the aeroplane.  They watched the whole event unfold and vividly described, on the Commemoration Hall stage, their feelings and memories in the 50th Anniversary commemoration presentation in 2006.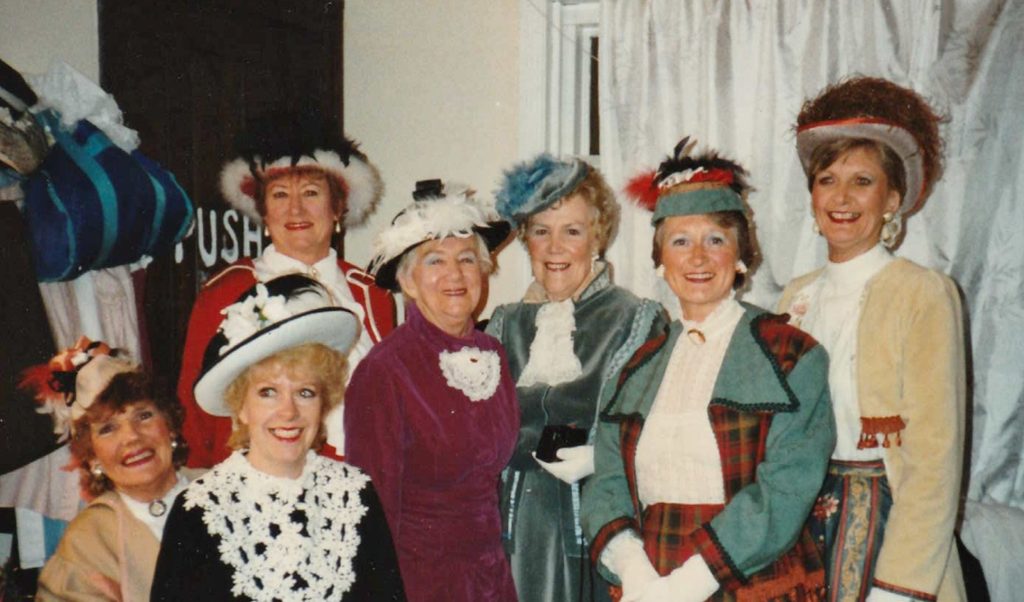 Compiled by Catherine Whitehead